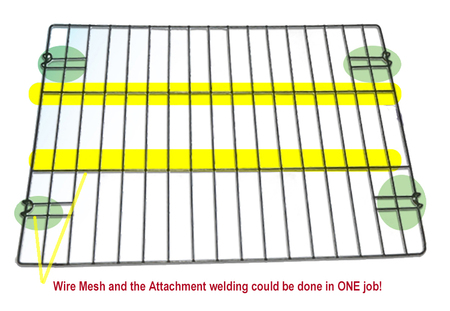 --Two Set of wire Jig interchanging, optimize the machine's utilization.
--High Speed! High Stability! High Efficiency!
--Save the cost of Electricity and Labor!
--Better Wire Mesh Leveling performance
Applicatioin: 
Small to mid size wire mesh, wire mesh with attachment, shelving storage mesh, cages, wire mesh fence…etc.
Feature:
1. Wire-jig frame transportation is controlled by servo motor, and its X and Y Axis movement working are simultaneously. That speed up whole welding procedure.
2. By equipped two welding cylinders, it applied to the wire mesh with attachment such like hook …etc. which needs to be welded on. Or anytime of irregular shape of wire mesh. This design wild expand the application range. With less limitation to finish the wire mesh to be done in one processing cycle.
3. once the correct welding procedure is set, the finished wire mesh result is very leveling status. No worry about the arch bending situation.
4. Optional equipped with Inverter Controller of transformer will saving the electricity consumption and also bring better welding point surface outcome.
Specification:
Model

Capacity

(KVA)

Pistons


Rated Input Voltage

(V)

Primary Output

(A)

Secondary Voltage

(V)

Max. Short circuit Output

(A)

Cooling Water

(L/min.)

SXY-800

80

2

380V

120A

8V

32600A

6

SXY-1000

100

2

380V

160A

9.5V

38500A

6

SXY-1200

120

2

380V

256A

11V

40700A

6

SXY-1500

150

4

380V

310A

14V

42800A

6

Any custom specfication could be made to order
Model

Applicable
Wire mesh size

(mm)

Machine
Dimensions

(cm)

SXY-800

600*1150

390*210*170

SXY-1000

600*1150

390*210*170

SXY-1200

600*1150

390*210*170

SXY-1500

600*1150

390*210*170